About Me
ABOUT ME - WHAT YOU NEED TO KNOW!
Sometimes I feel like the dinosaur in the cartoon which I've adopted as my personal logo. I started in the mail order business in 1971, printing my early, 1-page Wholesale lists on a "mimeograph machine" - a messy, do-it-yourself, kitchen-table-top printing system. A far cry from the Internet of today...
At the same time I started a peddling route, attending the various public Stamp Auctions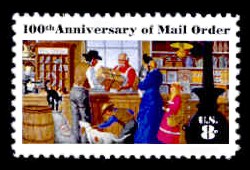 in New York (there were many of them in those days...), buying whatever I felt my customers would need and then driving around to a few dozen stamp stores in the NYC/LI/NJ and lower NY State area. I'd also show up at some of the Stamp Shows in the area with my (not so) little black bag of stamps & FDCs. I also maintained a mail-order Wholesale Pricelist of U.S. Stamps. Scroll down below and you'll see one of these prehsitoric stone tablets. I maintained this list until the early 1980s.
During the 1980s my business changed when I began to specialize in the field of Postal Stationery. Still, I continued my "route", wholesaling Postal Stationery... with a little bit of Stamps and FDCs on the side. This part of my business all but died when commercial rents in the NY area became murderously high, forcing many of the stores I serviced to either move or enter the mail-order business...

...WHICH BRINGS ME TO THIS WEBSITE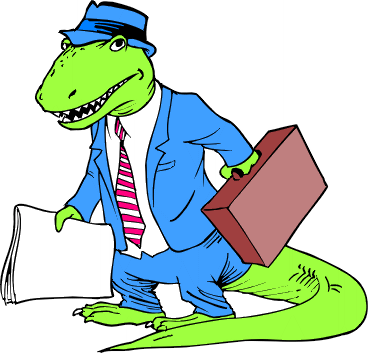 I was like the dinosaur in the cartoon at the left, having resisted buying a computer until 1993. It would still be several years before I would use it for anything other than inventory and typesetting for my mail-order pricelists. I finally reached the Internet (EBAY) in 1999; I put up my own retail website by 2002. Wholesale, though, was still something I just did on the side in a somewhat unorganized fashion.

I recently decided to get my wholesale business orgainzed and bring it to the internet. This won't be easy; Rome wasn't built in a day, and this website won't be built in a day, either. There's a lot of material floating around the office, but it will take awhile before it's listed. Please be patient with me and you won't be disappointed.

A FEW OTHER THINGS....

There is no "us" here. Only me. My motto is the same as President Harry Truman's; "The buck stops here". I take the credit for everything that goes right, and I accept the blame for anything that (rarely!) goes wrong.

There are no underpaid teenagers working here. I buy the stamps, I check them into inventory, I pull your order, I pack it and I stand on line in the @#!$%& Post Office much longer than I'd like to.
This Dinosaur has credentials. I've been a stamp dealer now for 43 years; I've been around and I've left my mark. Here's a bit of my history:
I've belonged to the APS (American Philatelic Society) since 1971 and am currently a Life Member.
I've belonged to the ASDA (American Stamp Dealers' Association) since 1973. I'm also a past President of LISDA (the Long Island chapter of the ASDA).
I've belonged to the UPSS (United Postal Stationery Society) since 1982.
I've belonged to the AAMS (American Airmail Society) since 1974 and am currently a Life Member.
I've belonged to the AFDCS (American First Day Cover Society) since.... well, this is a bit embarassing, but my membership card doesn't list the date when I joined, and I don't have the time to dig into my records. Probably the late '70s.
I've belonged to the USSS (United States Stamp Society - Formerly the BIA (Bureau Issues Association)) since.... well, my membership card here is also a little spotty on the info. Probably also the late '70s.

I had booths at all the big NY shows in the '70s; the ASDA Show, the INTERPEX show and the LISDA show (back when it was held at the Nassau Coliseum). I also took a booth at the Chicago ASDA show (I was politely handed my first speeding ticket on my way home from that show!).

But then, I decided that the life of a "Show Dealer" wasn't for me. That decision had much to do with my specializing in Postal Stationery.... and the extreme bulk of my inventory.

I've also left a few "editorial footprints" over the years, as well. I was on the Editorial Board of the UPSS 20th Century Envelope Catalog (2004 Edition) and have been a "Contributor" to the UPSS Postal Card Catalog (1985, 1990, 2005 and 2010).
I look forward to working with you.
Best regards,


Use this link to return to the previous page. Go Back